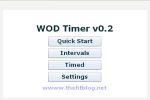 I spent a bit more time on WOD Timer and fixed some issues.
Added features include:
Full Screen support
Settings menu - control auto full screen and audio cues
Audio cues now include vocal, beep and… wait for it… none.
Added validation on the interval settings fields
Finally, I've also built an AIR version of WOD Timer.  This version can be installed locally on you computer.  Follow the instructions below.
To install locally, you will need to first install the Adobe AIR runtime.  You can download and install the runtime from the Adobe Air download page:
Install Methond
When asked to save or open by your browser, just open the file
Finally, when shown the warning, click "install" and then "continue"
As always, leave feedback in the comments section!