April 20th, 2008
I've been working on my hand balancing for while now. It's better - a little bit anyway. Unfortunately I think one of the missing gaps at the moment is weak wrists.
The wrists unfortunately take the majority of the burden of keeping the body upright. If you begin toppling over knees first, there is only so much you can do, but if you fall backwards (towards the back of your head), you can put pressure on your fingers to stop yourself from going over… as much as you can anyway. Thi causes some extreme work for the wrists. Wrist flexibility and strength are key elements to the handstand.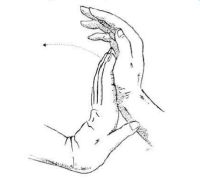 Training for wrist flexibility is fairly straight forward. The York Hand balancing course (circa 1950) shows the following diagram for working on this diagram for some simple wrist flexibility work. Hold the fingertips and pull the wrists backwards. Easy peasy. Fortunately you can do this whenever, without any special equipment (or any particular situation).
What about working on wrist strength? Squeezing the hand shut is one method for strengthening the wrists. Stress balls are an inexpensive tool that can be brought to work or used in front of the TV without much focus. Winding up a towel and squeezing that is even less expensive. Alternatively, grip strength equipment can be purchased at most fitness stores. Are they worth it? IMHO, probably not.
Another somewhat inexpensive tool for working on wrist strength can be built fairly easily. It consists of a simple wooden dowel, some rope and a weight. I fashioned one of these this afternoon in less than 15 minutes.
Take a 1 - 2 inch thick wooden dowel, and drill a hole through the middle. Sew a 4 foot rope through it and tie a knot at the end of the rope so that the rope can't fit back through the hole. Then tie up a weight (or two) at the other end of the rope. To use this tool, simply wind up the weight and wind it back down. Working on this magnificently simple piece of equipment a few times a week will give you some serious forearms.