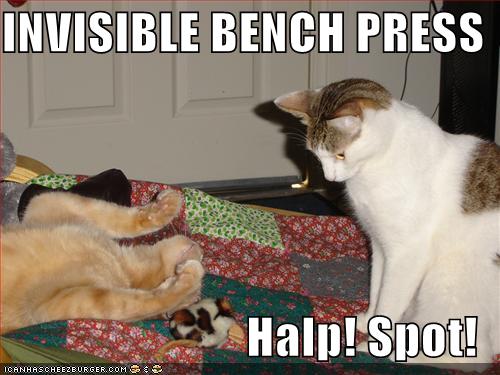 see more crazy cat pics
Last night the local crossfit WOD was 3-3-3-3-3-3-3 bench presses, working our way up to our max.
The good news is that I managed a max bench of 215lbs! that's over 40lbs beyond body weight. The bad news is… and I'm extremely ashamed to say this, but during our last crossfit total, I maxed out at a 205lb back squat. Huh? Yep - that's right, my max squat was 205lbs and my max bench press was 215lbs. In my eyes there is something seriously wrong with this picture.
I have a feeling (and I hope) that my max squat wasn't really my max - it was just hovering around where I though my max would be relative to the other guys doing the total with me. On my next total, I think that I should be able to do at least a 250lb back squat as a 1 rep max - hopefully even beyond that. Grrrrr…. It kinda makes me a little PO'd that during the total I didn't try harder. Grrrr….