October 21st, 2007
In the world of sports, few things are as exciting as watching a World record get broken in the track and field events. In preparation for the 2008 Summer Olympics next August, I've compiled a bunch of record breaking youtube video clips below.
Unfortunately, not all of the records are on youtube so they weren't included. Nevertheless, these are all amazing feats of elite specialized athleticism and are very enjoyable.
October 4th, 2007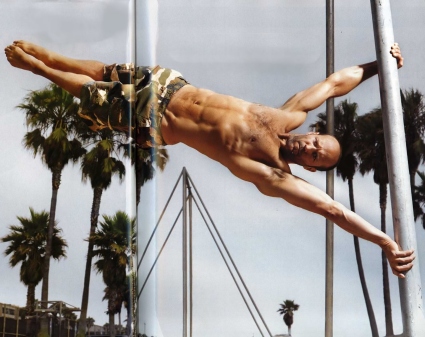 The October Men's Health guy is Jason Statham. If you don't know the name, he's the guy who stars in two great action movies, both called the Transporter (#1 and #2, anyway). His slickness is only second to his great action presence in the films - he has an air about him that says, "don't mess with me".Well, it turns out that you wouldn't want to mess with him in real life either. You can read more about him, his workout and his eating plan here, at the Men's Health website.
Highlights of the article include how he approaches his workout and his diet. Jason does the bulk of his workout in a circuit style which resembles an extended crossfit session. He never repeats a workout and always pits himself against time. He says, "Every single thing we do is against the closk. That way you'll always know how good you are and if you're slacking off."
His eating plan is basically your no bread, no booze, plain yogurt kind of thing but he writes everything he eats down on paper in order to make it difficult to "muck up" the diet.
Read the full article, here.
October 2nd, 2007
On November 10 - 11, Tampa Florida will hold the 4th annual Women's Tri-Fit Fall Classic. The competition will include physique modeling, fitness routines and an all out obstacle course.
Earlier this year, in July, WTF held their World Challenge in Las Vegas for it's 10th anniversary. The competition included a 10-foot wall climb and a struggle through 15 feet of cargo netting in a 160 yard obstacle course. Participants also had to perform a multitude of box jumps and bench presses in order to rise to the top of the competition. The usual physique modeling and fitness routines were also a part of the challenge.
For a better understanding of the event, check out the highlights from the 2007 Spring Classic, courtesy of trifittv.com:
For more information, point your browser to www.womenstrifitness.com.
May 21st, 2007
Years ago, I would read various short stories from Chicken Soup for the Soul and feel all inspired and such. This is truly that kind of story.
It's about a guy who is no doubt the World's Strongest Dad - Dick Hoyt, a 63 year old father of a disabled son, who goes the extra mile (around 26 of them usually) with his son to help both of them have the most fulfilling lives possible. Fantastic story that I just had to share.
Hit the link here: http://cjcphoto.com/can/
May 13th, 2007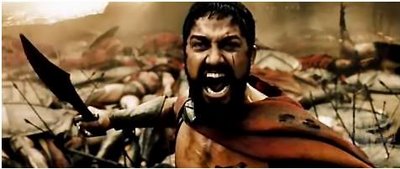 I saw 300 last night. It's an amazing film. The story might lack a little depth, but between the acting, the cinematography and the special effects, it is still a super good movie. Right from the get go, there's a huge intensity that doesn't end until the movie is over. The camera work and post production was brilliantly done. Apparently much of the film was shot at high speed and a scene hardly passes without some degree of slow motion. The characters were all portrayed perfectly and the voices of both Leonidas and Xerxes were bang-on. This movie takes that Ben-Hur kind of cinematic achievement to the next level - hopefully it will inspire other films to follow it's path.
But one of the many neat aspects of 300's production was the training that the actors underwent before shooting began. These guys were all playing Spartan warriors and if the movie is any indication, Spartan warriors all have to have lots of muscle and extremely chiseled abs - almost ridiculously chiseled. So how does one go about gathering a cast of Schwarzeneggers? Apparently they go through punishing workouts. The training that they have is something seriously ferocious. Here's a clip of Mark Twight, the trainer, talking about how they got smashed.

Mark Twight talks more about the 300 workout
here, on the Gym Jones website
.