New Website for WOD Timer Here!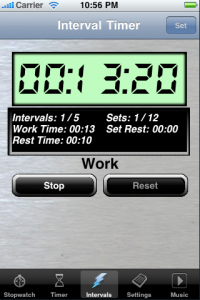 WOD Timer is no longer free (but it's still super cheap!)
For a limited time, WOD Timer will be free for downloading through the iPhone App Store. Please go and download it and leave a comment below to let me know what you like or don't like or what you would like to see in future iterations.
Download WOD Timer here!!

Workouts like Tabata or Crossfit's Fight Gone Bad and other interval training methods require a time keeper - someone to watch over the time and let the exercisers know when to work and when to rest and when to stop.
Generally speaking, keeping time of the intervals is a pain - especially when doing so yourself.
WODTimer is a dynamic, customizable interval timer that is capable of keeping time of workouts.
From simple timings to complex intervals, WODTimer is full of features for keeping track of workouts which exercisers or fitness professionals alike can take advantage of.
WODTimer features 3 separate timing modes :
a simple stopwatch with lap measurements
a countdown timer (also with a lap feature)
and a fully customizable interval timer for keeping track of work and rest times plus set counts.
The interval timer also has a variety of presets for common or more complex interval workouts.
Exercisers and fitness professionals will appreciate the available audio cues during timings to notify changes between sets, work or rest intervals.
WODTimer also features media player integration to pick playlists from within the application and navigate between songs and avoid accidentally closing the app during an interval workout.