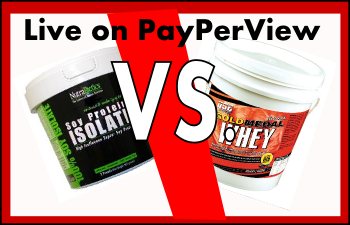 It is often suggested that soy protein is not as effective as whey protein for building lean muscle mass. Many bodybuilders subscribe to this idea as if it's a universal truth. But is it? Is Soy protein seriously less potent than whey?
According to a Ohio State University study published in 2004, like whey, soy protein produced a "statistically significant increase in lean body mass" in the subjects with little difference between the two.
Another point that some bodybuilders will make against using soy based protein supplements is the apparent high levels of estrogen found. While soy protein does contain higher estrogen-like molecules (Daidzein) than whey, they are significantly weaker than human estrogen estradiol and will not cause any problems in men.
I'm not saying that you should chuck your 100% whey protein and start using soy based protein. However, if you would rather not use protein supplements that are derived from animals, or possibly have an allergy to whey, then soy protein is a really good choice. In fact, soy based protein may even have benefits over whey. The same 2004 study suggested that while the whey sample group exhibited a deterioration in antioxidant function, the group that took the soy based protein showed a preservation of this function.