August 2nd, 2011
Wow, it's been a while since I last wrote an article here. Life has gotten hectic and is about to get even more hectic as my wife and I are expecting a baby in October (yikes!).
Despite the hectic schedule lately, fitness continues to be a prime interest mine. Although to be honest, I haven't been getting to the gym much lately, but have fortunately been continuing to exercise and eat properly.
In fact, I've been finding that, from a maintenance perspective, a regular simple workout combined with healthy, properly clean eating can work wonders for maintenance.
In the last month, my fitness can be broken down as follows:
Food
I continue to stay (mostly) off the grains (with the exception of the occasional patio/deck beers). BBQ meat is one of my main foods, lately supplemented with home-grown garden salads. For snacks I've been sticking primarily with yogurt and gorp (good ol raisins and peanuts) and almonds. When I'm in a rush in the morning, I've been opting for a protein shake and a handful of nuts.
Exercise
Daily – One of:
An interval routine of pushups, situps and pullups
Lots of burpees (around 100 quickly)
About 3 hours per week of Beach volleyball
About 2 hours per week of baseball
Lots of stretching (nightly)
Finally
Getting lots of sleep – one of the most important (yet incredibly under-appreciated) elements of maintaining a healthy body.
While the Summer months make me think of relaxation and margaritas, it's actually a season with lots of activity and things that need to get done. For me, anyway, it means prioritizing and spending less time on some things. Exercise and maintaining a healthy body can fortunately be done with little time and don't require a gym. In fact, in the Summer, maybe it's best just avoiding the gym as much as possible. The last place you may want to be during the sunny days and warm nights is cooped up all sweaty indoors.
December 12th, 2010
Paleo is Paleolithic
Once upon a time ago there were humans who didn't have smart phones, didn't have books, heck – didn't even have a written language. In fact, these humans were a vague (although genetically equal) version of us. These were our ancestors – the first of our kind – the first to inhabit our genetic makeup. And their genes had been developed for great lengths of time for specific reasons – to enable upright walking and complex thinking, emotion and survival instincts. Genetically, our ancestors were primed for hunting and gathering – survival, and their diets consisted of gathered vegetation and hunted animal meats. Sugar was unknown for the most part – as was bread and pasta. Many days these people would go without eating much at all. A successful hunt would bring back a nice meaty meal that would be quickly devoured before spoiled… It was an "eat to live" mentality. And diseases like we encounter today were nonexistent.
Their existence may have been a long time ago, but in the context of evolution, it was only just a moment ago – a moment in which nothing has changed in our genetic makeup. Cell for cell, we are identical to the humans of our hunter and gatherer past. However, technologically we are light-years away. Our technology has brought about many new things – much of which has enabled the massive success of our civilizations. But when it comes to food, there has been a giant separation between what (and how) humans used to eat and what (and how) humans eat today.
The Paleo Diet
And this is fundamentally what Paleo is all about. Our bodies evolved to consume a hunter-gatherer diet. Yet the modern world consumes a diet based on mass production. Human technology gave way to food processing and subsequently wheat based and sugary products – concentrated high calorie foods that although were particularly viable and useful for an exponentially growing population, were a far cry from the meats and vegetation days.
The Paleo diet is nothing more than ditching today's processed food habits and switching to high quality (preferably raw) foods that our digestive systems were meant to consume. By doing so, the argument is that our bodies begin to run in a best state. Anecdotally (and scientifically), reports are all saying the same thing about this type of diet – that multitudes of health problems go away, digestion operates efficiently, migraines go away, excess weight is lost, sleep disruption and anxiety problems decline and energy levels become optimum.
And it's exceptionally simple! Following a Paleo diet involves no measuring or calorie counting (if you aren't interested in quick weight loss anyway). All you need to do is remember this mantra:
Meats and vegetables, nuts and seeds, some fruit, a little starch and NO SUGAR!
You can get a little more complicated than that by also avoiding legumes and nightshade type foods or consuming everything (including meat) raw, but in a nutshell (pun intended) the simple sentence above is all you need to keep in mind when eating.
The basic theory is that food should only be eaten as they were by our ancestors – as food should be eaten, given how our bodies and organs operate. So some of the things that should not be eaten include dairy products, sugar or sugar substitues and wheat based products or high glycemic veggies such as corn. Animal fat is fine (and actually encouraged).
A Day in the Life (of Paleo)
A nice Paleo friendly day of meals, for example, could look like this:
Breakfast: 2 eggs, an apple and a handful of almonds
Snack 1: homemade beef jerky (low sodium) and some berries
Lunch: Salad with chicken, lettuce, cucumber, snow peas and an oil based dressing
Snack 2: Some trail mix – dried berries (no sugar added) and nuts
Dinner: BBQ'd Salmon filet with a spinach salad (with sesame seeds and strawberries)
Snack 3: Some pistachios and pumpkin seeds or maybe a bit of chicken or some more jerky
Paleo diet friendly foods are low glycemic and have minimal effect on blood glucose levels. As such, those of us with blood sugar related problems (that are generally related to food) often find that episodes of hypoglycemia, for example, are more or less gone while on a paleo diet. Similarly, Paleo diets tend to keep hunger at bay and as such, it is possible to maintain a calorie restricted diet more easily on a Paleo diet.
For liquids, water, tea (unsweetened, no milk), coffee (black) are the basic drinks. Alcohol is unfortunately a no-no (although many Paleo dieters tend to disregard that in a social setting).
Keep in mind that it's very difficult to maintain a strict Paleo diet along side a social life. When engaging in social situations, don't feel overly guilty for falling off the bandwagon temporarily. Keep prepared, however, and try to consume protein with drinks and try as much as possible to avoid the sweets.
Remember – No Sugar
If you're finding that the newest and greatest diet isn't working for you or if you simply don't have the time to measure out your portions and count calories, try out the Paleo way. It's simple – just eat high quality foods as your body is meant to and remember: meats and veggies, nuts and seeds, some fruit, a little starch and NO SUGAR!!
November 20th, 2010
Raw Foods SOS is an awesome nutrition blog by Denise Menger, a nutrition fanatic, freelance writer and raw foods evangelist with an obvious lot of knowledge and food smarts. Not only does she take great effort debunking studies and mainstream nutritional thinking, she does so with a incredibly appealing writing style. Her article titled "The China Study, Wheat and Heart Disease" goes into brain exploding detail on why wheat should be avoided at all costs. Denise takes all the data from the study and puts her own numerical analytics genius to work, pulling truth from the numbers and reflecting thoughtfully on her conclusions.
I was going to simply highlight that sole article on the evils of wheat, but instead I recommend that anyone at all interested in nutrition should take a read of Denise's many articles.  Definitely great writing worth reading.  Possibly the best nutrition related blog I've seen outside of Robb Wolf's Paleo blog.
On a related note and plugging two separate blogs in one single post, Robb Wolf's Paleo Solution Quick Start Guide is a fantastic super quick guide that highlights some key points about the Paleo diet.  Anyone interested in weight loss or eating "clean" should take a look.
October 3rd, 2010
Here's a collection of a few exercises I used while in Vegas the other weekend. I didn't like the hotel gym so decided to mostly use body weight exercises to keep in shape during my stay.
These 4 exercises really target some major muscles and doing them in a circuit style would be a great hotel room workout that can be done in minutes. These exercises could also be used for at home workouts.
August 7th, 2010
This video demonstrates a number of incredibly great bodyweight workouts – some of which I've never seen before, but will definitely be adding to my own routines. Never even thought about doing a hop after a one legged squat (pistol). And the L-sit on the balance tape is seriously wicked.
The two man partner exercises might also be good for a class (although I did go to a Crossfit class in San Fran once where someone took a serious header during a fireman lift/walk team WOD – ugh… that was aweful). The two man squat reminds me of these donkey calf raises (lol).
Granted, some of these exercises are somewhat advanced and/or require an urban landscape appropriate for them, but trainers take note – the gentlemen from Norther Parkour have a lot of great exercises that can be incorporated into your programs.
August 7th, 2010

Not only does Brooklyn Decker grace the front cover of the September 2010 Women's Health, she was named by the magazine as the best summer body of 2010.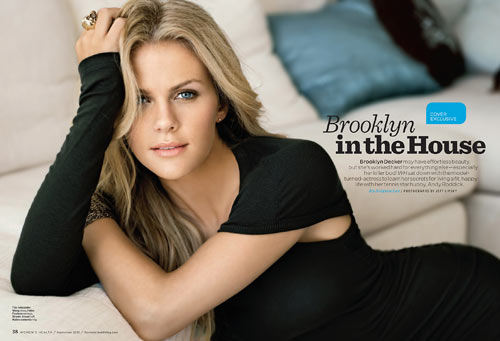 In the September issue, the model-turned actress and wife of tennis star Andy Roddick discusses fitness and health and how she achieves that killer body.  She does a lot of cardio (something that I'm not super into, as you know), but also works the free weights (although keeps it light) and does some yoga as well (which is great).  Brooklyn admits to being skeptical about yoga at first, like many of us are, but yoga has obviously become a large part of her workout routine as this clip from her Elle/ExerciseTV workout video shows:
July 26th, 2010
Cambridge dictionary: "the condition of being physically strong and healthy" as in, "I'm trying to improve my fitness by cycling to work". Ugh… Terrible definition.
The wiki Wiktionary goes for a better definition: "The condition of being fit, suitable or appropriate, the cultivation of an attractive and healthy physique, the ability to perform a function." It is a little better.
On the other side of the spectrum, Crossfit has a full 2 page pdf on the question, taking the stance is that good fitness is having sufficient and above average competence across multiple domains, suggesting that being fit means that although you probably won't win a marathon, you would do very well while also similarly excelling in things such as weight lifting and gymnastics. Crossfit does, however, shy away from what many people believe qualifies fitness – that is, as wiktionary put it, "the cultivation of anattractive and healthy physique". Certainly, experienced Crossfitters tend to have athletic physiques by default, given their hardcore exercise and nutrition nature but not specifically calling out physique as a quality of fitness, however, is a mistake IMHO.
For the overwhelming population, "training" is performed in the pursuit of increasing physical attractiveness – losing weight, toning, going for the six pack abs atc… At the same time though, calling a body builder "fit" isn't appropriate as muscle and low body fat does not necessarily indicate any level of functional competence in any particular domain other than body building.
Let's see if we can update the Wiktionary definition with something better… how about this:
"The condition of being fit, suitable or appropriate, the cultivation of an attractive and healthy physique, the ability to perform and be competent across multiple domains, the possession of strength, flexibility, endurance, stamina, power, speed, agility, coordination, balance and accuracy".
Yes, I like that definition.
July 19th, 2010
This is straight out off the crossfit.com website.  Great quote from Teddy R.
"It is not the critic who counts. Not the man who points out how the strong
man stumbled or where the doer of deeds could have done better. The credit
belongs to the man who is actually in the arena, whose face is marred by
dust and sweat and blood; who strives valiantly; who errs and comes short
again and again; who knows the great enthusiasms, the great devotions;
who spends himself in a worthy cause. Who, at the best, knows in the end
the triumph of high achievement, and who at the worst, at least fails while
daring greatly, so that his place shall never be with those timid souls who
know neither victory nor defeat."
- Theodore Roosevelt
July 8th, 2010
So you only have so much free time, right? And that free time is going to be use watching the final World Cup games. That leaves no time for exercise. Any normal person may decide that this semi-legitimate excuse is enough to rationalize not working out (and possibly drinking beer instead), but much to the chagrin of you World Cup fans, I have a few solutions. Here are a few simple bodyweight workouts that can be done while watching the World Cup, without even needing to take your eyes of the TV.
The key to these workouts is continual movement at a medium-high intensity with short rest periods. Each of these workouts contain a series of exercises to be done back to back in sets, with 1 to 2 minutes of rest between sets. Scale as necessary.

Workout 1
4 sets of:
25 pushups
50 lunges
25 situps
Workout 2
5 sets of:
20 air squats
20 jumping jacks
20 calf raises
10 supermans
Workout 3
3 sets of:
20 situps
20 mountain climbers
20 dips
20 air squats
20 pushups
20 lunges

June 21st, 2010
I had an interesting conversation yesterday with someone about calorie counting, food quality and starvation mode. It turned out that he tried to lose weight by counting calories. In a two week period, adjusting his diet to be 200 calories sub basil metabolic rate, he didn't lose one single kilo. Definitely a frustrating experience, but not to be discouraged and being a super intelligent individual, he figured out what was going on. His basal metabolic rate had actually dropped because of his diet. He had essentially gone into starvation mode and his body was trying to compensate!
When a person drops caloric intake by any significant amount, the body will react (appropriately) by going into a kind of starvation mode. It will actually slow down in order to compensate with the lower availability of energy. So if your basal metabolic rate requires 1800 calories, then lowering your caloric intake to 1600 may actually cause your metabolic rate to drop to that same level and as such, you end up suffering with hunger for nothing! (This isn't all true, of course. There is lots of evidence that this "starvation mode" is actually beneficial for long term health and aging).
So what did this person do to compensate? He found out that the only way that counting calories would work for him was to eat zero empty calories. That's zero sugar or low quality carbs. The amount of food that he ate wasn't the only variable on his weight loss. The quality of food became a huge parameter. He started eating high quality food consisting of lots of veggies (spinach in particular) and fish (he's a fan of salmon). After increasing the quality of his food, he noticed huge strides forward with respect to weight loss. And this wasn't the only thing he noticed. I don't want to make this sound as though it would be common, but his hair actually began growing in thicker and darker!
I'm not suggesting that people who go on calorie restricted diets will experience the same thing, but after noticing some grey on my thinning head the other day, I'm seriously considering following his lead.
Regardless of his fountain of youth like experience, at least it can be fair to say that low calorie diets on top of high quality food is definitely the way to go for those looking to quickly drop weight. Add a comprehensive exercise program on top of that, and your metabolic rate may not decrease as much due to metabolic "starvation compensation" and you will definitely notice serious results.
June 21st, 2010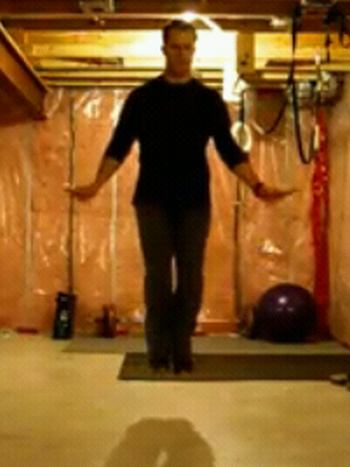 While normal skipping or rope jumping is fairly trivial (for some people), the double under is a sick VO2 maximizer and is also crazy difficult. For anyone who doesn't know what a double under is, it's when the skipping rope passes around you twice in one skip. I have a demo here, where I performed 105 consecutive double unders and then almost died (which is why I thought the title, "Death by Double Unders" was appropriate).
So if you are one of the many, many people who struggle with the double under, but are interested in perfecting it, I thought I'd share a few tips.
1) It's all in the wrist. When most people begin double unders, they figure that in order to get the rope around twice, they need to jump higher. This is partly true, but if you're doing a tuck jump and your knees are bending significantly, you're doing it wrong. Instead of jumping super high, try to flick the rope around faster with your wrists. This does not mean be spastic with the arms. The motion is primarily a forearm through wrist motion. Try not to do the tuck jump. Jump as you normally would (more or less) when you do singles.
2) Timing is key. Again, you want to avoid jumping too high. The first revolution should occur during the upwards motion of your hop and the second revolution will occur in the downwards motion, a fraction of a second before the rope skims the ground.
3) Use a good rope. Unless you're really comfortable with double unders, don't use a non-plastic rope. Classic rope moves slowly and is far more difficult to flick around twice. Use a plastic rope with handles that aren't physically attached to the rope. The handles will stay static when you're skipping. Make sure that the rope moves well within the handles. Otherwise you will end up with a twisted rope and double unders will be nearly impossible.
4) Do not tense up too much. Many people do this when performing double unders. Their necks and shoulders completely tense up. It's difficult to avoid, but try and keep things loose. Otherwise you will throw off your breathing and circulation. Given that double unders require significant aerobic work, you need your Krebs cycle working as efficiently as possible.
Hopefully those few points will help you out towards attaining a perfect double under!
June 10th, 2010
The lunge. I can't emphasize enough how amazing this simple exercise is. One of the most difficult workouts that I have ever done (barely at that) was 400 meters of lunges. Just body weight. For my leg size, that equates to about 400 lunges. It seems like a lot, no doubt, but I had no idea how painful it would end up being. After the workout, I tried to run back to the starting point and I must have looked like a baby calf that just learned how to walk. I certainly felt like one. For days after the workout, I could barely climb a set of stairs and I was constantly limping. In fact, 400 meters of lunges is absolutely overkill. But I wanted to give you an idea of how killer lunges can be at working the big leg muscles – namely the quads and hamstrings.
To perform a good lunge, step out with one foot, then bend both knees until the back knee kisses the ground. Don't bang your knee on the ground! Just lightly touch the ground, or hover an inch or so above if you're worried about your knee hitting the ground. From this "lunge" position, stand back up and bring your back leg in line with your front. Done. It really is as simple as it sounds. But what you can get out of this exercise is a serious quadraceps muscle workout.
As I've mentioned before, working large muscles such as the quad is very good for bring up the metabolic rate during the exercise and well into the post exercise phase.
So boost your metabolism and try the following for a great workout for weight loss and metabolic conditioning:
5 to 10 rounds of

10 box jumps
10 lunges
10 pushups
Trust me – this workout will make your legs burn and your heart race. As simple as it sounds, it really is quite effective.
June 8th, 2010
Hormone imbalances can cause weight problems. Too much glucose, for example, will cause insulin spikes which in turn halts fat loss. Excessive estrogen in Women has also been shown to inflict weight control problems. In fact, balance in the human endocrine system is a key component to weight control and some successful diet programs such as the Zone capitalize on this well documented detail.
However, our hormone processes are far from simple and keeping them under control is not necessarily easy. But there are some things we can do to energize our endocrine, including getting our required sleep.
What many people don't realize is that sleep is incredibly important – not only so we don't feel awful in the morning, but also because a lack of sleep disrupts the effectiveness of our metabolic processes which could lead to weight control issues (amont other things).
Studies have found that glucose tolerance and carbohydrate metabolism ability is lower in sleep-debt conditions (those restricted to around 4-5 hours of sleep per night) relative to fully rested conditions.
Another recent study, done over 5 years, found that having less than 5 hours of sleep per night was related to a higher BMI compared to sleep durations of between 6 and 7 hours.
I've mentioned this in many previous posts – that sleep is critical to health, weight control and muscle growth. Get those 7 hours of sleep and if possible don't feel bad about sleeping in even more over the weekend ;)